When it comes to rucking, having the right backpack can make all the difference in your comfort, performance, and overall experience. Whether you're a dedicated rucker or just getting started with this challenging yet rewarding activity, investing in a high-quality rucking backpack is a decision you won't regret. But with numerous options available on the market, choosing the best one can be a daunting task.
That's where we come in. In this guide, we'll walk you through the essential factors to consider when selecting a rucking backpack and provide you with a hand-picked list of some of the top options available today. Whether you're preparing for a military-style endurance event, like a GOURCK Star Course, training for a long hike, or simply looking for a durable backpack for your daily rucks, our guide will help you make an informed decision.
CONTENT
What to Look for in a Rucking Backpack
When looking for a rucking backpack, there are several key factors to consider. Here are some important features to consider:
Durability:

Rucking involves carrying heavy loads for extended periods, so durability is crucial. Look for a backpack made from tough, abrasion-resistant materials like nylon or Cordura. Reinforced stitching, sturdy zippers, and robust construction will ensure the backpack can withstand the rigors of rucking.
Comfort and Fit:

Rucking can be physically demanding, so a comfortable and well-fitting backpack is essential. Look for adjustable padded shoulder straps and a sternum strap to distribute the weight evenly across your body. A padded back panel with good airflow will enhance comfort during long rucks.
Capacity:

Consider the capacity of the backpack and whether it meets your needs. Rucking typically involves carrying heavy items, so you'll need a backpack with sufficient space. Look for a backpack with a capacity of at least 20 liters or more, depending on the duration and purpose of your rucks.
Weight Distribution:

Look for a backpack that provides good weight distribution. Internal frames or load-bearing systems can help distribute the weight more evenly and prevent discomfort or strain on your back. Some backpacks also have compression straps to secure the load and minimize shifting.
Organization and Accessibility:

Consider the organization features of the backpack. Look for multiple compartments, pockets, and molle webbing to attach additional gear or pouches. Having easy access to essential items like water bottles, snacks, or navigation tools is important during rucking.
Water Resistance:

Rucking often takes place in various weather conditions, so having a backpack with water-resistant or waterproof materials is advantageous. This will help protect your gear from rain or other environmental factors.
Hydration Compatibility:

Look for a backpack that is compatible with hydration systems or has dedicated hydration bladder pockets. Staying properly hydrated during rucking is vital, and having easy access to water can make a significant difference.
Reflective Elements:

If you plan to ruck during low-light conditions or near roadways, consider a backpack with reflective elements for enhanced visibility and safety.
Brand Reputation and Reviews:

Research the reputation of the brand and read customer reviews to ensure the backpack meets your expectations in terms of quality, durability, and performance.
Remember that personal preferences may vary, so it's important to try on different backpacks if possible and see how they feel on your back before making a final decision.
Our Top Rucking Backpack List
To help you make the best choice, we have carefully curated a list of the top rucking backpacks available on the market. From durability and comfort to capacity and organization, these backpacks have been selected based on their standout features, customer satisfaction, and overall performance, ensuring that you find the perfect companion for your rucking adventures.
Best Overall – GORUCK RUCKER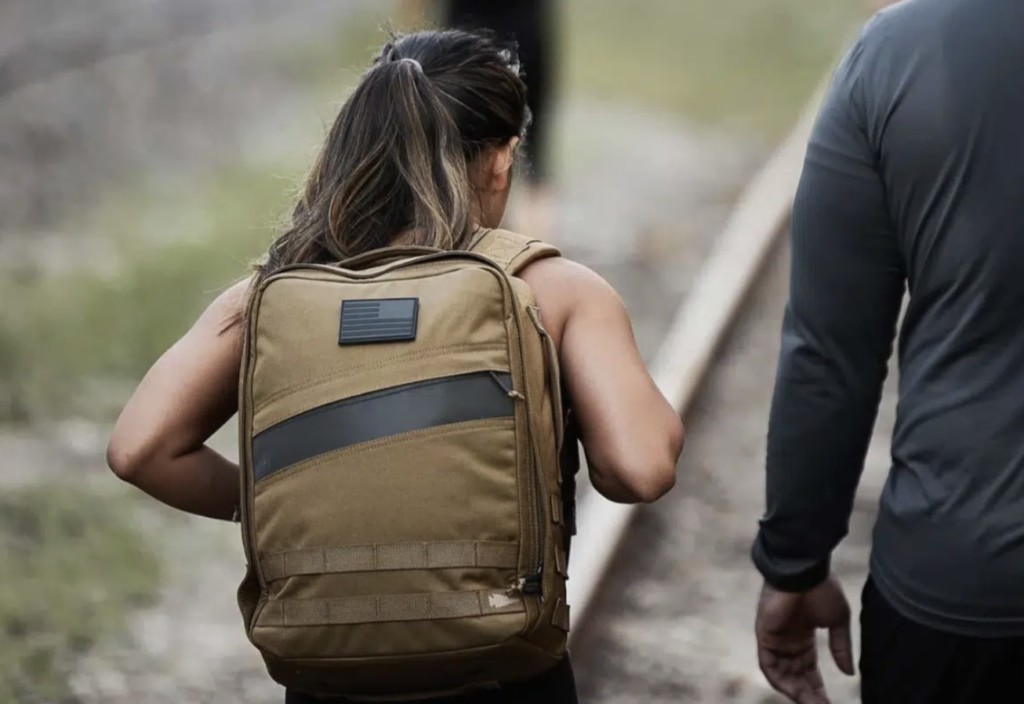 GORUCK is the company responsible for helping bring rucking to the mainstream. In doing so, they invested heavily into developing a backpack designed exclusively for rucking: The GORUCK Rucker.
The GORUCK Rucker is a great rucking backpack because it is:
Durable: The Rucker is made from 1000D Cordura nylon, which is a very durable material that can withstand a lot of wear and tear.
Comfortable: The Rucker has a padded shoulder harness, chest strap, an optional waist belt that distribute the weight evenly, making it comfortable to wear even when carrying a heavy load. In addition, the back of the Ruck is made from 210d Cordura which is so comfortable you could ruck shirtless.
Versatile: The Rucker is built for more than rucking. With 4 handles, you can use it as an all-in-one gym for Ruck Workouts.
Here are some of the specific features of the GORUCK Rucker that make it a great rucking backpack:
Padded shoulder harness: The padded shoulder harness distributes the weight evenly, making it comfortable to wear even when carrying a heavy load.
Waist belt: The waist belt helps to stabilize the backpack and distribute the weight even further, making it even more comfortable to wear. This is an optional feature that can be removed if desired.
Internal frame sheet: The internal frame sheet provides structure and support, making the backpack more comfortable to wear and helping to prevent it from sagging.
MOLLE webbing: The MOLLE webbing on the front and sides of the backpack allows you to attach additional gear, pouches, or other accessories.
Weight Compartment: With a dedicated weight compartment, you can easily add load (ruck plates are recommended) to your ruck, keeping it close and hight to the body.
YKK zippers: The YKK zippers are durable and reliable, and they are backed by a lifetime warranty.
Hydration Passthrough: Easily feed your hydration bladder's line through the passthrough to have easy access to water throughout your ruck.
Lifetime warranty: The GORUCK Rucker comes with the SCARS lifetime warranty, which means that you can be confident that it will last for years to come.
If you are looking for a durable, comfortable, and versatile rucking backpack, the GORUCK Rucker was literally built for you.
Other Great Rucking Backpacks
Mystery Ranch 2 Day Assault Pack:

Constructed with high-quality materials and reinforced stitching for rugged use.
Innovative 3-ZIP design offers quick access to the main compartment.
Adjustable yoke system and padded waist belt ensure a comfortable fit.
Ample storage capacity with various internal and external pockets.

CamelBak H.A.W.G.:

Incorporates a hydration system with a large water reservoir and drinking tube.
Well-padded shoulder straps, back panel, and waist belt for enhanced comfort.
Multiple compartments and pockets for efficient organization.
Durable construction with abrasion-resistant materials.

5.11 Tactical RUSH 24:

Spacious 24-hour capacity with various compartments and pockets.
Made from water-repellent and abrasion-resistant materials.
External webbing and multiple attachment points for versatility.
Adjustable yoke system and contoured shoulder straps for a customized fit.

Direct Action Dragon Egg MKII:

Compact and versatile design suitable for various rucking activities.
Made from durable 500D Cordura fabric with reinforced stitching.
Padded and adjustable shoulder straps with quick-release buckles.
Multiple compartments, including a padded laptop sleeve.
These rucking backpacks have been chosen for their durability, comfort, capacity, organization features, and overall positive user feedback. It's important to consider your specific needs, preferences, and the duration of your rucking activities when selecting the best backpack for you.